1. feathers - many through the week in my path, even in a drawer. Today , I found beautifully patterned ones on a walk around a lake. Ducks and geese. There is a heron who was there last week. I would love to find one of his feathers. He seems to be a guy as he stood by the edge with ducks around him. Not afraid and scoping out the territory.
"Hope" is the thing with feathers -
That perches in the soul -
And sings the tune without the words -
And never stops - at all ...
( Emily Dickinson)
2

.

leaves - they seem to be turning and falling. I collected them on a walk and stuffed
them in my pocket.
THE LEAVES, like women, interchange

Sagacious confidence;

Somewhat of nods, and somewhat of

Portentous inference,
( Emily Dickinson)
3. books: a pile from the library sale shelves and the most thrilling are these three:
Tree Book by Julia Ellen Rogers. ( look up her name and find her books online at Project Gutenberg) I found this edition and below is another edition
Wild Flowers by Neltje Blanchan
I found this copy and this is not my photo. Her books are beautifully illustrated and online also. Below is another edition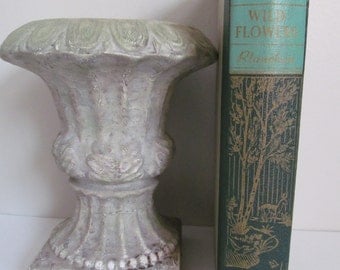 Those were 3.00 each. I had found a Kate Seredy book in the children's room and almost screamed with joy : 20 cents.
I have collected her books for two decades and think I have already have this book and no dust jacket:
Last night the book I am almost finished with
GLOWED
in the dark. Glowed a bookstore.!