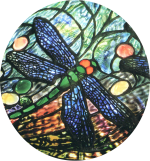 Back from a long weekend to New York City with my sister and daughter . We visited my nephew who lives in Brooklyn now. Residency. Long hours in the hospital. We , on the other hand, learned how to get into the city on the subway to go to the MET, Morgan Library, MoBia ( to see The Four Gospels of Makoto Fujimura) " How to Suceed in Business " with Daniel Radcliffe ( yes, he can sing and dance quite nicely!) and NY food. Upon returning I'm reading " Clara and Mr. Tiffany" by
Susan Vreeland:
the turn of the century story of his stained glass windows.
I had seen several
at the MET and now the story comes alive! Clara was a
letter writer
besides being an artist of color and beauty.
"What saved Clara Driscoll from obscurity is not any Tiffany Studios catalog, but her passion for writing letters
."